The last official Apple-supported operating system for the classic Mac pro 1,1 or 2,1 is OS X Lion. With some workarounds it is possible to go up to OS X El Capitan but that's where it stops. Since El Capitan got released back in 2015, most software developers dropped support for it a while ago and as good as all popular tools and applications are no longer running on El Capitan. As a valid alternative to macOS, Windows is an option here. This post covers how to get Windows 11 on your Mac Pro 1,1 or 2,2, which will allow you to install the latest software versions and get the latest patches and updates.
YouTube Video
If you are interested, I also created a few YouTube video from this blogpost. If you prefer classic text, you can just follow the rest of this article:
Introduction
In this post, the plan is to try and install Windows 11 on a Mac Pro 1,1 or 2,1, which is up to 15 years old at the time of posting as it got released back in 2006.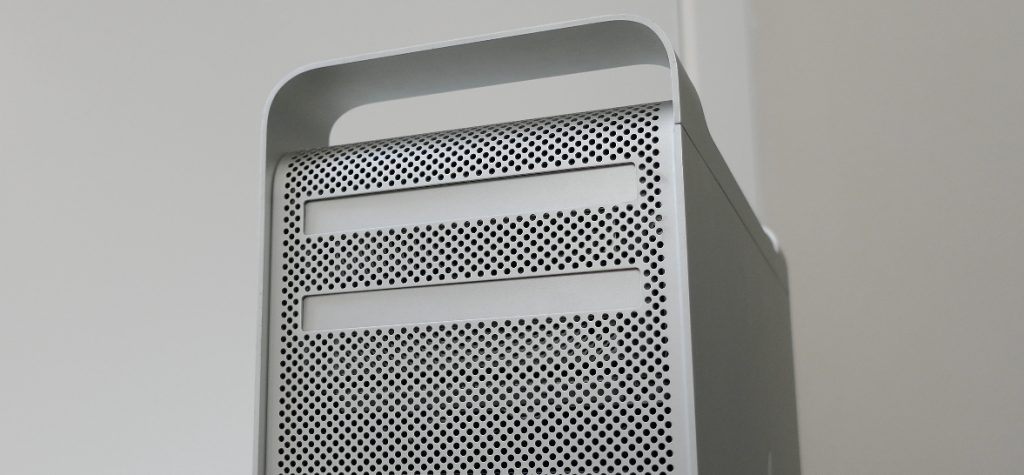 Apple is more or less releasing a new operating system every year and that results in dropped support for older OS versions from most software developers. As good as all popular tools and applications no longer run on El Capitan. This is not only annoying but might also expose you to security risks. That's why running Windows 11 on this hardware is not such a bad idea.
Obviously running Windows 11 officially not supported on this hardware but if you've looked at some of my other posts or YouTube videos, that's exactly what makes things interesting.
One thing that is different from a regular PC is the BIOS or better EFI. In short, this is the piece of code that is responsible for initial hardware support and launching the operating system. This machine has only 32 bit EFI support and that was also the reason why Apple dropped support for this device so soon. Versions newer than OS X Lion support only 64 bit EFI.
Part 1) Prepare a Windows 11 Installation DVD for the Mac Pro 1,1 or 2,1
We will install Windows 11 the oldschool way by booting from DVD. Windows is able to handle the 32 bit EFI in theory but since Windows 7 there are some issues with the initial boot message, when trying to boot from DVD. Without any modification, it will either be stuck at "Press any key to boot from CD/DVD" or "Select CD-ROM Boot Type"

Pressing that any key or choosing a 1 or 2, to boot from the DVD needs a very very specific timing to work and it has driving people crazy.
Fortunately there is workaround for this issue. Simply by changing the way that the DVD will boot. Instead of showing the boot menu, we can let the DVD boot directly into the installer.
To do so, I will use a Windows-based machine. There is probably a way to accomplish this on Mac as well but that would make things complicated. Since we will boot from DVD, you will also need an empty DVD and obviously, the PC you're using needs to have a DVD writer.
Step 1) Download the ISO with the Media Creation Tool
As a starting point, we need to download a recent copy of the Windows 11 ISO. We can do so with the media creation tool from Microsoft's website: https://www.microsoft.com/en-us/software-download/windows11

Download and start the Media Creation tool. Then accept the licensing terms and select the language: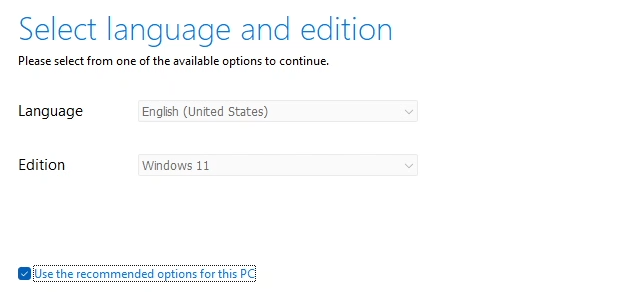 Click Next and choose to download the ISO in the next screen:

Continue and wait for the download and creation of the ISO to finish. As a result, you should have a Windows.iso file:

Step 2) Extract the ISO to a folder on your PC
The next step is to extract the contents of the ISO into a folder which we will use as source for the tool. I created a folder called Win11original on the desktop. Then we can mount the ISO by double-clicking on it or right click then mount and copy all files from the mounted ISO to the folder: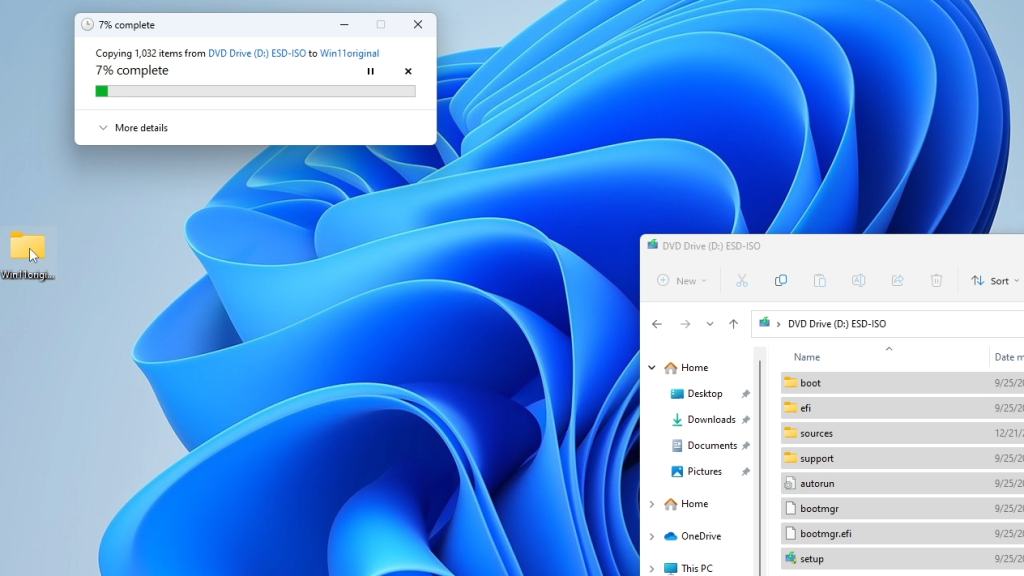 Step 3) Create a modified ISO with a single boot option
To create the new, modified ISO, we will need a tool from Microsoft called oscdimg. You can download it from here: https://jensd.be/download/oscdimg.exe.
This tool allows to customize a Windows install and generates a new ISO with the changes. You can find documentation for it over here, in case you're interested: https://learn.microsoft.com/en-us/windows-hardware/manufacture/desktop/oscdimg-command-line-options?view=windows-11
To make things easy with the paths to use, I copied the oscdimg.exe file to the desktop and also created another new folder called Win11modded. This one will contain the new ISO file as output of the tool: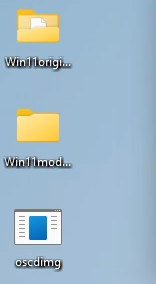 Now All preparation is done so we can open a command prompt and navigate to the Desktop:

The next command will instruct oscdimg to generate a new ISO image. The command line options instruct to boot directly into what is called the "El Torito File System Boot" or etfsboot.com instead of that broken boot menu.
This is the full command:
oscdimg.exe -n -m -bWin11original\boot\etfsboot.com Win11original Win11modded\Win11modded.iso
The rest of the arguments are the source of the files, which is that Win11original folder and the destination, Win11modded.iso.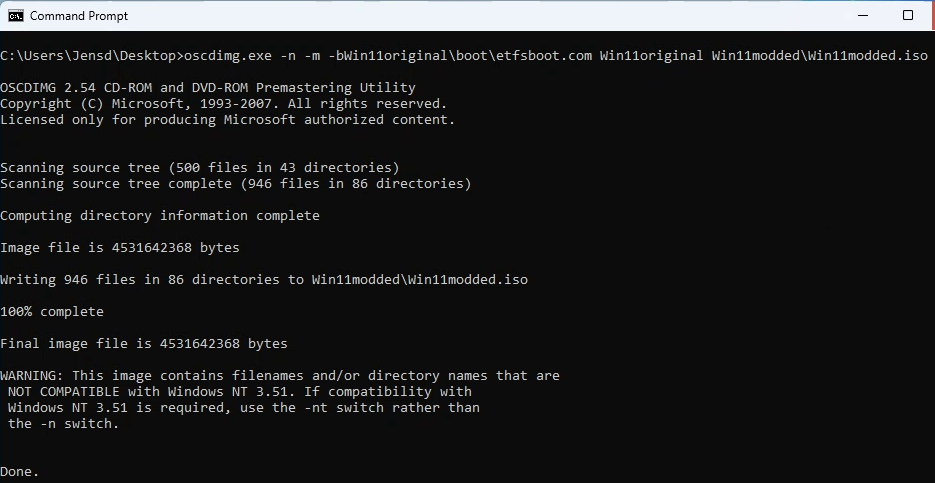 After the command completes, we can find the modified ISO in the folder we created (Win11modded):

Step 4) Burn the ISO to disc
All that's left to do on this PC, is to burn this ISO to an empty disk. In Windows you can just right click the Win11modded.iso file, choose "Show more options" and click on Burn disc image:

It was a long time since I did that to be honest. Probably that's a good thing. After some patience, if all goes well, the process finished and the ISO image is now succesfuly on the disc: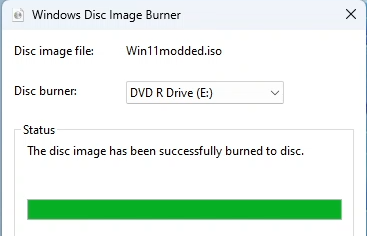 Part 2) Install Windows 11 on the Mac Pro 1,1 or 2,1
Now that the DVD is ready, we can use it to boot from it on our Mac Pro. Simply insert the disc in the DVD drive and reboot while holding the Alt or Option key on the keyboard.
For this post, I removed all other drives present in the system and just kept one fresh SSD on which I will install Windows 11. Depending on the other drives present in your system, the boot menu should pop up and show you the option to boot from the DVD:
Just press Enter here and if all goes well, after some patience and a lot of noise from the DVD drive, the Windows installer should show up. During my test, this took over 3 minutes: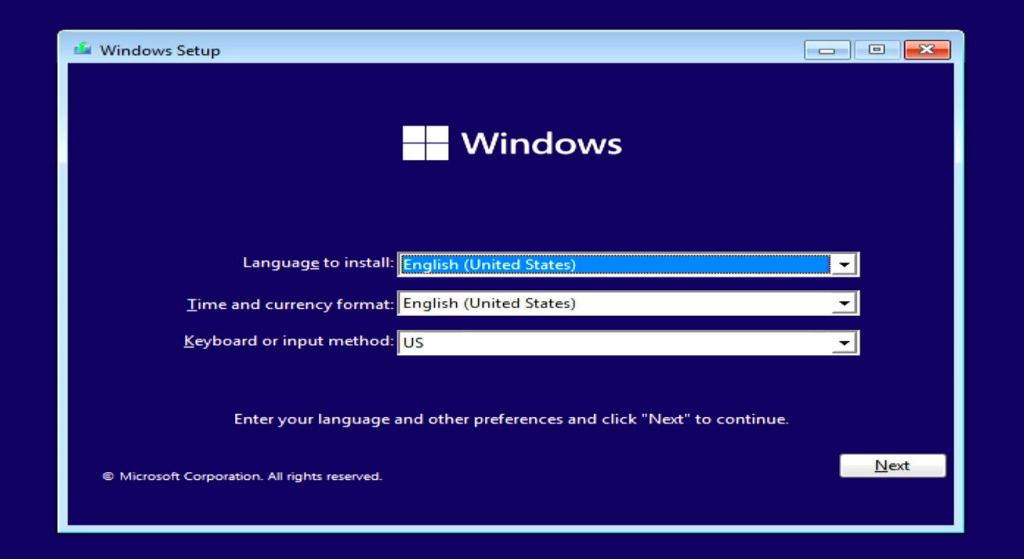 Here we can just walk through the Windows installation like on any other PC. All we need to do different, to work around the unsupported hardware, is to apply a workaround. I've documented that before in a separate post: https://jensd.be/1472/windows/install-windows-11-on-unsupported-hardware.
Click Next in the first screen after selecting your location and keyboard layout. On the "Install now" screen, open a command prompt by using Shift + F10 on the keyboard.
In the command prompt, type regedit and press Enter, to open the registry editor:

In the registry editor, navigate to: Computer\HKEY_LOCAL_MACHINE\SYSTEM\Setup and add a new key there called LabConfig. To do this, right click on Setup and choose New > Key:

Give it the name LabConfig and in the key, right click and choose New – DWORD (32-bit) Value: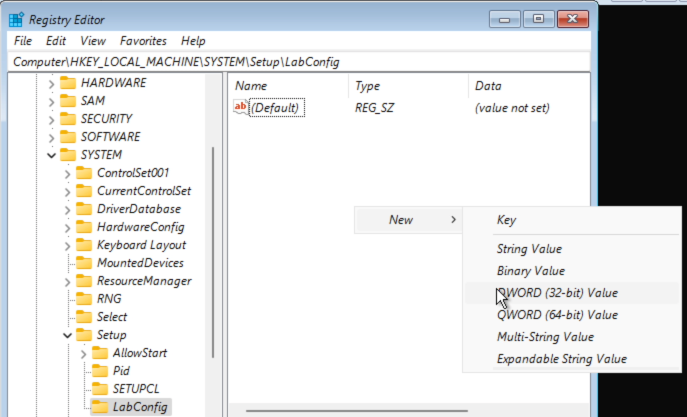 Give the name BypassTPMCheck to this DWORD. Repeat these steps a second time but nowgive the name BypassSecureBootCheck. Then double-click on each of these two DWORDs and change the value to 1. As a result, you should get the following: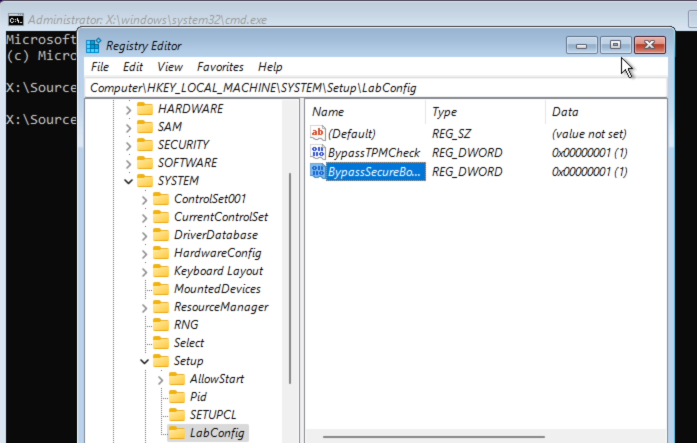 Now that's done, we can close the Registry Editor and the command prompt we opened and continue with the install by clicking "Install Now"
In the next screens, choose: "I don't have a product key", if asked. It can be added later. Accept the license and choose for: "Custom: Install Windows only (advanced)". You should end up with the "Where do you want to install Windows?" dialog eventually:
As I only have that single SSD in here, I can select that drive and click Next. If you kept your other drives in the system, make sure to select the correct drive where you want to install Windows to: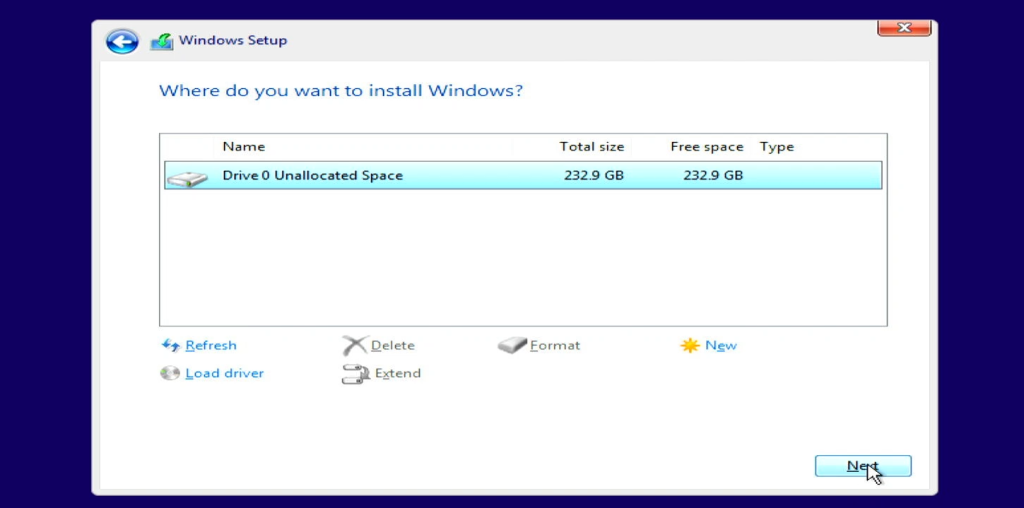 The rest of the installation is pretty much the same as any other Windows 11 installation. First, the installer will copy the required files to your machine and then reboot. It took around 9-10 minutes between clicking Next on the above screen and the first reboot in my case.
It is possible that during that reboot, the Mac tries to boot again from the DVD. If that is the case, quit the installer and hold Alt/Option to show up the boot menu.

From there you can choose to boot from the hard drive or SSD (left icon) or eject the DVD and continue.
If al goes well, you will end up with the initial setup dialog: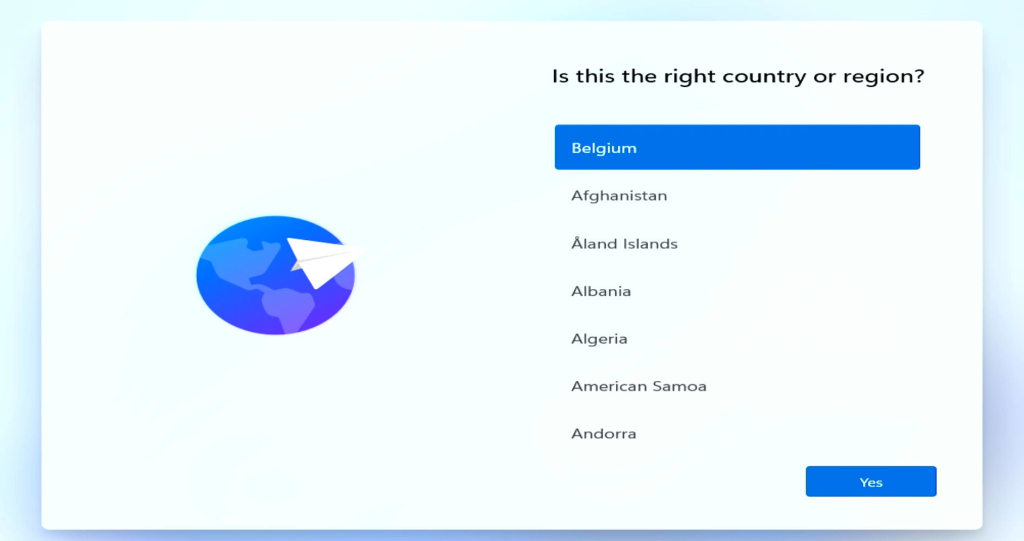 Here, again, this is just like any other regular Windows 11 installation. You can continue through these steps as you would usually do. In case you're interested in skipping the need for a Microsoft account, have a look at this blogpost I did about that: https://jensd.be/1799/windows/avoid-the-need-for-a-microsoft-account-on-windows-11.
Once you went through all steps, you will need to be a bit more patient again but eventually you should end up with a fresh Windows 11 desktop: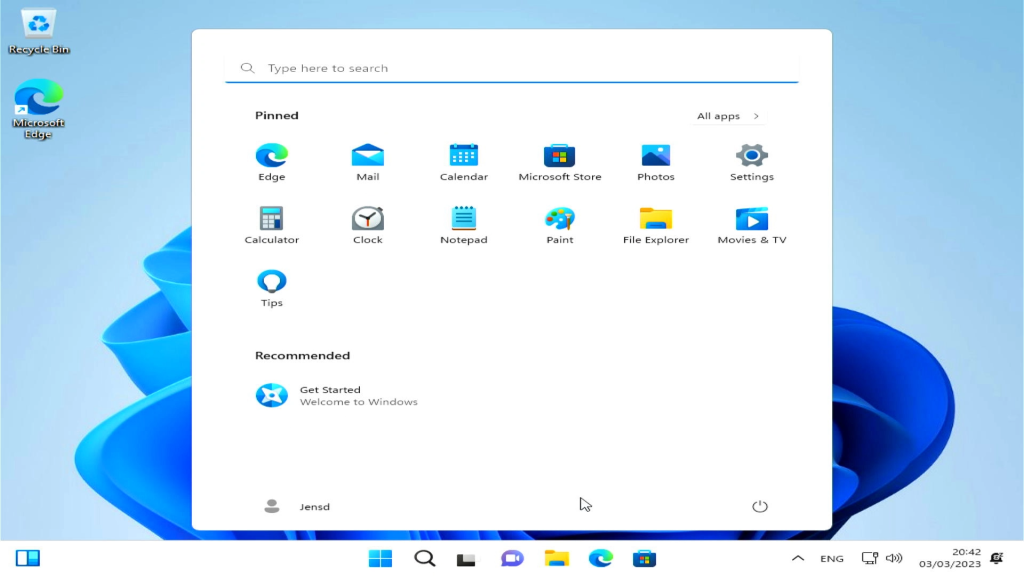 Part 3) After the installation
Windows Update
As you can see in the previous screenshot, there is still some work to do. Mainly this is related to installing drivers. The easiest way to do this is by running Windows Update and install all optional drivers it suggests:
So go to Start – Settings – Windows Update – Check for updates and install all proposed updates:
Video card and drivers
One issue I came across is that I did not manage to find drivers for the original video card. This is the Geforce 7300GT with 256MB. I tried to install the drivers through Windows Update and by running the driver tool from NVIDIA but without success.
I didn't really try very hard as I had another video card with better performance anyway, a NVIDIA GT120: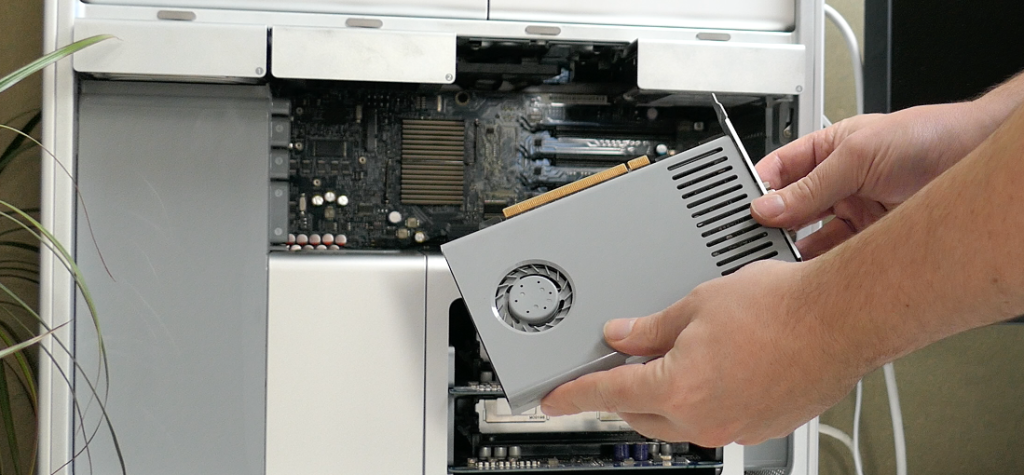 After shutting down the Mac and installing that card, I downloaded the drivers from NVIDIA's website. Even during that process, Windows Update already installed the correct driver: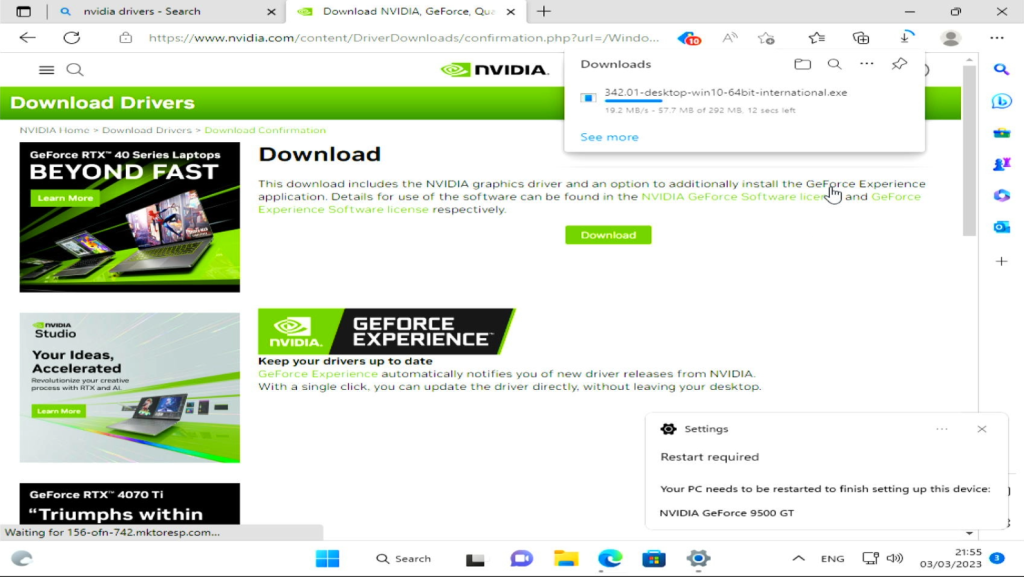 Another reboot later, everything looked as expected: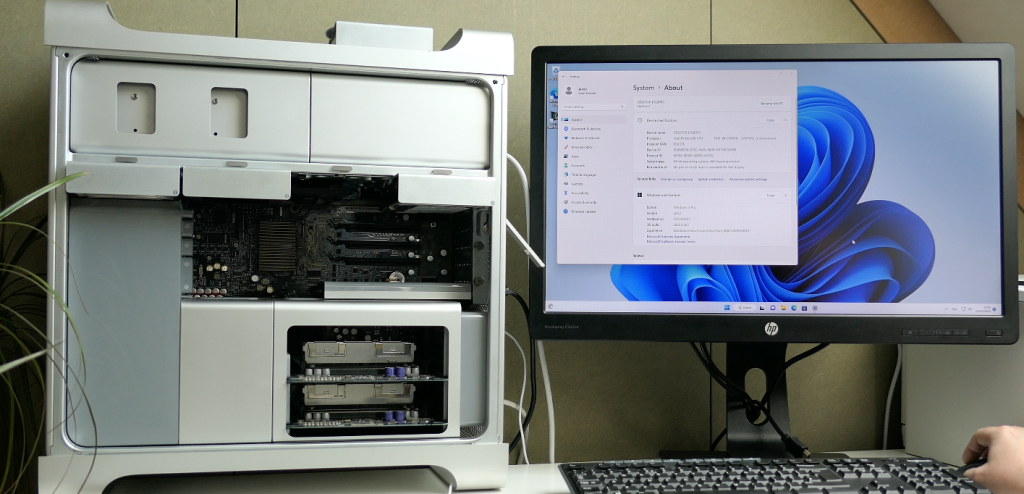 Conclusion
After going through these steps, which were not really hard, we managed to get Windows 11 running smoothly on the Mac Pro 1,1. Despite the age of the hardware, Windows 11 works pretty well so far. I can again install recent versions of the applications I want to use and take advantage of the latest patches and upgrades.
Still a bit strange that Windows became a better option for one of Apple's top models but it definitely extends the life of this hardware.